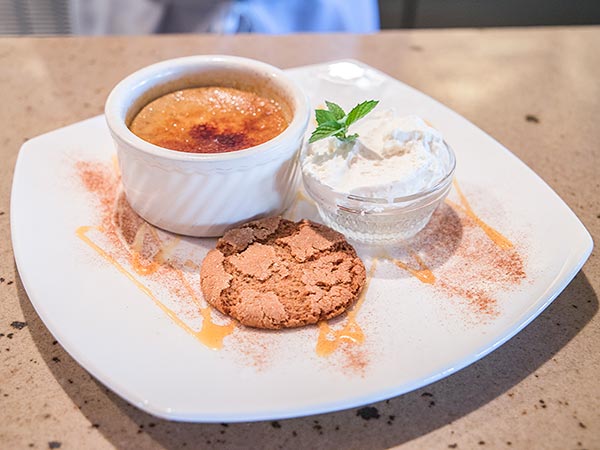 If you're looking for an easy and impressive dessert, look no further. Crème brûlée is a classic dessert everyone can enjoy and, even better, it brings a little theater into your dining experience with a torched sugar top. What's nice about this dish is that you can prepare it days in advance, so you're not left scrambling last minute to get a dessert together.
The earliest known recipe for crème brûlée dates back hundreds of years, although its exact origins are hotly debated. Regardless, this sweet custard dessert is enjoyed by people around the world, including patrons at The Cork. We've offered crème brûlée on our menu for decades—both classic vanilla and other seasonal flavors, like pumpkin!
Try making it at home with this simple yet decadent recipe:
The Cork's Classic Vanilla Bean Crème Brûlée (serves 8)
Prep time: 15 – 25 minutes
Cook time: 45 – 60 minutes
Ingredients
3 cups heavy cream
1 cups half and half
12 egg yolks
2/3 cups granulated sugar
2 tablespoons vanilla extract
Instructions
1. Preheat your oven to 375 degrees.
2. Combine the half and half with the heavy cream in a large saucepot until hot, but not boiling.
3. Separate the eggs and combine the yolks with the sugar and vanilla.
4. Slowly mix your egg, sugar and vanilla mixture with the hot cream mixture.
TIP: Be sure to do this slowly and carefully to avoid cooking the eggs. The goal is to bring everything up to temperature without scrambling your eggs!
5. Place 8 ramekins in a baking dish, then add room temperature or warm water to the baking dish until its ramekins are about halfway submerged.
6. Pour the custard mixture into the ramekins, leaving about ¼ inch at the top.
TIP: For the best presentation, wipe up any spills or drops on the side of the ramekins.
7. Cover each ramekin with foil and bake at 375 for 45 minutes to 1 hour. Cooking varies, you'll need to keep an eye on them.
TIP: Custard is done when there is a slight area in the middle size of a quarter that isn't quite done. The custard will still be a little jiggly and the color will be pale with no browning.
8. Remove and let chill in the refrigerator for at least 6 hours until set.
When ready to serve:
1. Remove from the fridge just before serving and spread a tablespoon of sugar on each while still cold.
TIP: any granulated sugar will work, although we recommend turbinado or raw sugar for taste.
2. Caramelize the sugar top with a blow torch. Hold the torch a few inches above the crème brûlée and only torch until it's lightly brown.
TIP: If you're less familiar with using a blow torch, try practicing beforehand—or, make it an interactive dining experience by letting your guests torch their own!