It's time we tell you our secret ingredient. For 50 years, we've been giving this to everyone who walks through the door and we think it's time to clue you in to what makes The Cork so unique.
A great meal starts and ends with amazing staff.
That's the secret ingredient, and it might be a subtle quality, but you can feel the difference when your entire team is happy and proud of the work they do. After years of working together, pranking each other and just supporting one another in hard times, we know our Cork family pretty well—and want to introduce you to those who make your meal so memorable.
In this special Uncorked Blog, we'd like to introduce you to one of our long-time servers, Lionel:
How long have you been at the Cork?
I don't know the exact date… I could get that for you, but it was about 12 years ago.
12 years? That's a long time. What do you think has kept you here so long?
First of all, for me I don't consider it a job. I look forward to going to the restaurant because for me this place has treated me like family since I started. That's why I feel so comfortable, I feel like I can be myself at this restaurant. And it's not just the front of house and customers, it's the energy we all generate with each other—I love walking into the kitchen because they make my job so easy.
How do you think working at The Cork compares to other restaurants?
In Europe, you don't stay more than one or two years in the same place. It's how people do it there, but from the start I knew this was the right place for me because it feels like family… "Family" is a powerful word, but it can be very difficult when you live overseas. When I'm here I feel a little bit closer because there are many Mexican friends who at work the Cork, they make me comfortable because they come from another country and understand.
Tell me more—where are you from in Europe? What brought you to the U.S.?
I grew up in France, in Burgundy. Ever since I was a younger kid, I always wanted to come to the U.S.; I would know who the U.S. president was and not even know the French president. [laughs] When I moved to the U.S., I said it doesn't matter what kind of work I do, but I'm going to do it right.
So, outside of work, what are some of your hobbies or passions?
I love soccer—I've always been around soccer, and I've been around this soccer family for a long time and I see their kids coming in and growing up and it's so beautiful. During the whole month of June, I could take days off with my daughter for soccer. She's an amazing soccer player and I am just so proud of her. And she works here too; it makes me so happy because I see it as a great education for her in life.
I didn't know your daughter works here! I imagine that could get interesting…
Oh, it makes me the happiest dad on earth. She understands now why I am certain ways and why I cherish this work so much. Like I said earlier, it's not just a job. Even when she comes in… it's the energy that's around.
Any final thoughts on staying so positive? On keeping that 'energy' after all these years?
I just love life, so when I come to work my love for life doesn't stop, I just want to keep on going. As soon as I come in the door, I love to bring some happiness around.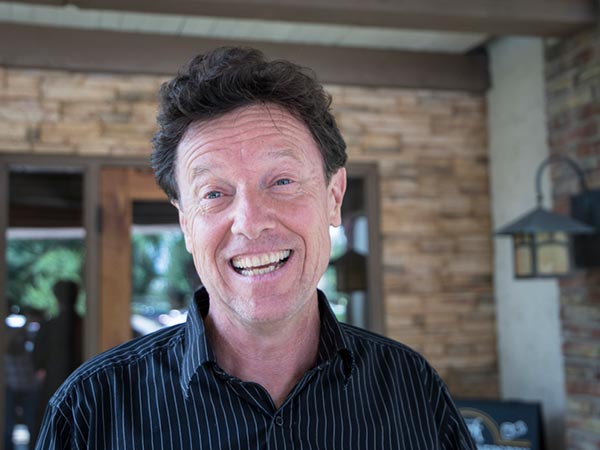 Thank you, Lionel!
It's an honor having such a dedicated team here at The Cork. Even after 12 years, he always wears a smile to work and knows how to keep us on our toes. He's one of many wonderful people in our Cork family who make working and eating here so great. Get to know our whole team—Join us for a meal, happy hour or just a drink at the bar. We look forward to seeing you then!