There are a lot of moving parts to making an unforgettable meal, and what happens behind the scenes often goes unnoticed. Yes, there's a lot of hard work — hours spent perfecting every detail, polishing every glass, preparing every dish. But, like any job, there are a few fun and games.
After 50 years in business, Cork staff have enjoyed their fair share of pranks. If you've ever worked in a restaurant, you've probably had your share of fun, too. Maybe your bartender poured a martini into a wine glass or your line cook "garnished" your mashed potatoes with a berry. But if you're the one dining out, you probably never see these silly stunts—your knowledgeable server knows better than to bring something to your table that isn't right.
However, some of the shenanigans that go on behind the scenes are just too good to not share. Here are a couple of the most infamous pranks ever pulled at the Cork:
Here's what happened…
"The waiter would come up to the table, introducing himself—'My name is so-and-so, I'll be your server tonight.' (The usual). Then, he'd grab a water glass and start filling it, and boom! The bottom of the glass falls out and the whole glass of water spills on the table."
And here's how they did it…
When the Cork first opened, all the glasses were actually wine bottles cut in half. Fun fact: we did that all in-house, out behind the restaurant! But what you need to know about wine bottles is that they aren't made out of tempered glass, so they aren't designed to handle sudden temperature changes.
To make a splash, back waiters would reset tables with nice, clean glasses, fresh out of the dishwasher and piping hot. When the server went up to greet their guests with ice-cold water, the temperature would put too much stress on the glass and cause it to crack or break. Since wine bottles are thicker than an average drinking glass, they can hold heat a little longer, so even if it's been five minutes since the glass came out of the dishwasher, it could still be warm enough to make this prank possible.
Needless to say, we've since switched to traditional glassware, so no one will be getting a lap of ice water any time soon.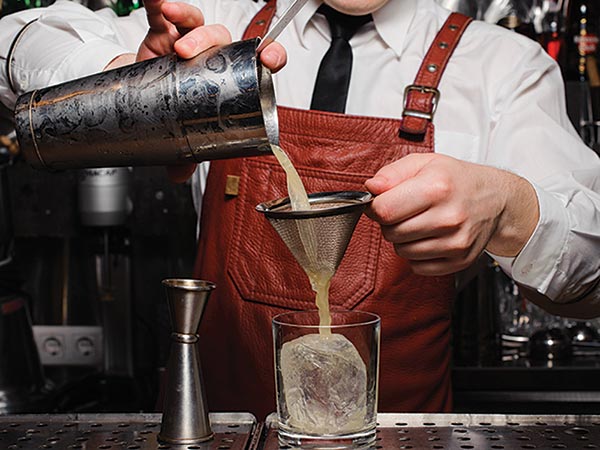 So, the story goes like this…
"The server would serve the beef kabob by taking the meat and vegetables off the skewer, then he realized they were hotdogs. The customers are looking like 'what is this?'"
This is how it was even possible…
Service was different when the Cork still had a salad bar. Back then, guests would head to the salad bar, grab a large plate and assemble their salad. When entrées came out, steaks were served directly onto the salad plate. The waiter would bring out a large serving plate with all orders and distribute each steak to the appropriate guest.
Wondering how a server could miss a pile of hotdogs on a tray of high-quality steaks? Well, some cooks were clever enough to build the plate so it disguised the hotdog kabobs—until it was too late. With a heavy tray of steaks and a hungry group of guests waiting, it's not hard to believe those kabobs made it to the table now and then.
Today the Cork provides fine dining service, which means you get a clean plate every time. Unless you smuggle one in, you won't be seeing a "hotdog kabob" for dinner.
All jokes aside…
We love our staff and we love seeing them have fun, even when they're silly. It's what makes our jobs so fun! But, in the end, our favorite pranks are the ones that never leave the service area. Our guests come first, and their experience is everything to us. That's what makes these pranks so "infamous" around here—they made it to the table. Considering we've been the go-to steakhouse in Boulder for 50 years, we're proud to say we don't often have service blunders to highlight, funny or otherwise.
If you want to hear about more of our staff hijinks, we'd love to sit down and reminisce with you! The Cork is open Monday through Sunday; contact us or make a reservation today.