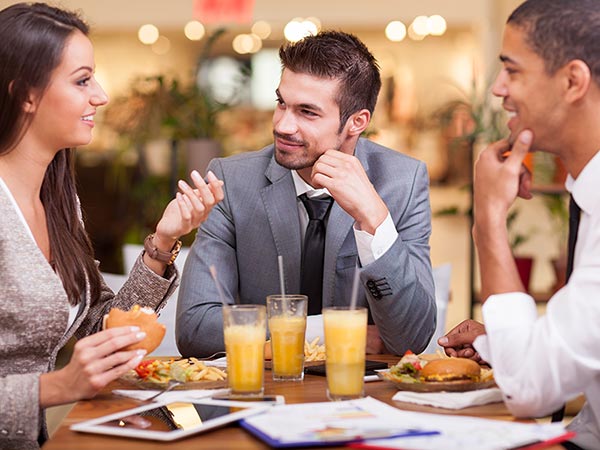 When you want your business lunch to go just right, every detail matters—and choosing the right restaurant to can be a stressful decision. After all, you don't know each guest's palate, and leading a group of colleagues from the familiarity of the office to—well, anywhere outside of the office can be intimidating. With so many people to please, it's important to find a restaurant that can accommodate everyone's needs and ensure no one leaves hungry. We've put together a list of things to keep in mind so you can focus on what's most important—getting down to business.
Ample Parking
Arriving at the restaurant should be the least of your guests' worries—and you certainly don't want them driving in circles for half an hour waiting for a parking spot to open up. Walking in to lunch late because they couldn't find parking can leave guests feeling tense and uninterested in socializing, so if a large group of people will be attending the gathering, locations with street parking only are not your friend. Instead, choose somewhere with on-site parking that has plenty of spaces available so guests can easily get where they need to be without stress.
Takes Reservations
This might sound like a no-brainer, but you'd be surprised how many large groups don't make reservations and expect to be seated immediately. Many restaurants seat customers on a first-come-first-serve basis and don't accept reservations, so make sure you choose a spot that does allow you to book a table or room—and then make your reservation well in advance.
Private Rooms
A good location for a business lunch will be able to seat each member of your party together regardless of whether there are four or 40 of them. Plus, if you've ever been that person awkwardly nodding at someone across the table even though you couldn't hear what they just said, then you probably know the importance of reducing extra noise at a group gathering. Many restaurants offer private rooms with multiple tables, so be sure to call ahead to reserve one. Booking a private room will give your group your own space where you can all sit together and don't have to worry about yelling to hear each other over the bustle of the staff and other customers.
Variety of Menu Options
Maybe Susan is a vegetarian and Bob's a pescatarian and you thought Diane didn't like fish, but you're pretty sure you saw her eating salmon the other day… Everyone has different needs and preferences when it comes to their diets, and rather than trying to keep track of it all, simply choose a restaurant with a large and varied menu. By doing so, you won't run into the uncomfortable situation where someone doesn't order anything and pretends they aren't hungry, when reality is, they just can't find anything they can eat.
Appropriate Ambience
You want the mood of the restaurant to match the mood of your meeting. If you're trying to bond with coworkers, show your colleagues how grateful you are for their hard work or close a deal, a location with loud music and unsupervised children running around probably won't suit your needs. Look for a space where people will feel at ease and allows conversation to flow naturally. Artwork on the walls, lighting that's not too dark or too fluorescent and music that isn't distracting are key.
History
Trying the newest, trendiest restaurant may sound like a good idea… but it won't be so fun if the service isn't up to par yet, or portions are so small people leave hungry. By selecting a dining spot that's been around for a while, you can feel confident that things will go well. It's always a good idea to check out online reviews, too, to find out about other customers' dining experiences.
If you're still stuck trying to decide where to have your business lunch, know that you can always count on a great experience at The Cork. We're celebrating our 50th anniversary this year, and our restaurant has received a wide variety of awards and commendations. With multiple unique dining spaces, we can comfortably accommodate your party of up to 65 people. Give us a call or reserve a room online today.