"I wake up thinking about food. I absolutely love my job."
Chef Jim Smailer has shared his talent and passion for food at the Boulder Cork for 35 years. Supported by sous chef Greg Larson, who has been with the Cork for more than three decades, Chef Smailer possesses a respect for and love of food unlike any other. An avid traveler, Chef Smailer gets inspiration from the places his visits, from Hawaii to Italy to the Caribbean. His love and respect for food stems from a childhood absent of microwave meals or frozen entrees, but instead full of regular trips by his grandmother to the local farmer's market. Chef Smailer continues that tradition today, purchasing local produce and meat from farmers he has known for 30 years. He is a firm believer that the best ingredients should be allowed to speak for themselves, and his simple, elegant creations reflect just that.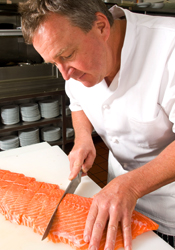 When you talk about the food, philosophy and dining experience at the Boulder Cork, sous chef Greg Larson is another key component to it all. Greg has worked at the Cork and with Jim since 1984. Originally from Iowa, he worked in several kitchens there before moving to Boulder and taking a position in the kitchen at the Cork. The rest, as they say, is history. Greg enjoys the focus on quality steak and seafood at the Cork, and also has a wonderful team relationship with Chef Jim and the rest of the Cork team. When he's not in the Cork kitchen, Greg enjoys taking advantage of the abundant outdoor recreation Boulder and Colorado have to offer.