Have you ever been confused reading a meat package or reading a restaurant menu? You're probably not alone. At The Cork, we take pride in the quality ingredients we serve. We're confident you'll enjoy your dinner, and we want to provide you with more knowledge about the cut of meat you may choose.
THE SELECTION. While the list of traditional beef cuts is vast, here's the breakdown of popular cuts that you can find on our dinner menu.
–Baseball Sirloin: this name generally refers to an upper portion of a top sirloin. The top sirloin cut can be found on the upper hindquarters of an animal, and is a boneless cut of meat. The steak itself is thick—generally at least two inches—and will fill out as it cooks. This contributes to its round, "baseball" appearance. The shorter, finer muscle fibers associated with hindquarter cuts often provide for a more tender textural experience.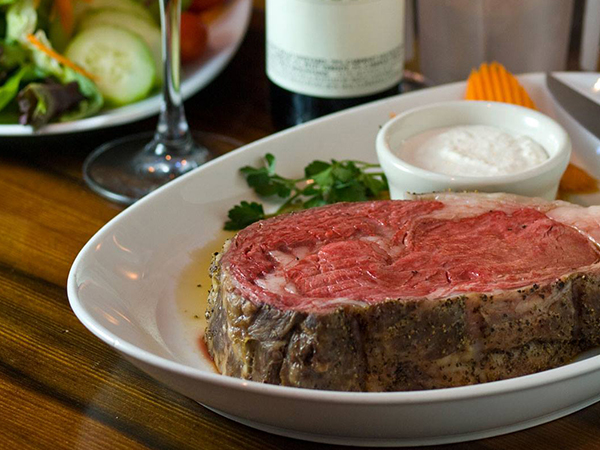 –New York Strip: perhaps one of the more recognizable names in beef cuts, the New York is a cut of short loin. This cut is located on the back of the cow, just behind the ribs and anterior to the baseball cut. It is recognized for its fine muscle fibers and tender texture, along with its rich flavor. A New York may contain higher fat-marbling content, which adds to the texture and flavor.. Because of the size of this muscle, New York Strips are often offered in larger, boneless portions.
–Filet Mignon: French for "dainty fillet," this cut comes from the smaller end of the tenderloin, just above the short loin. Tenderloin (as suggested by its name) is one of the more coveted cuts due to its extremely tender consistency.
–Prime Rib: may be our most coveted cut of meat at The Cork. The muscle itself is generally found adjacent to the lower seven ribs, and is hearty in both portion and fat content. The fat marbling contributes to the buttery, tender nature of prime rib, and greatly enhances the meat's flavor. Prime rib is technically a "standing roast" rather than a steak, which refers to its cooking method.
YOUR Temperature. Next, the waiter or waitress prompts you for a temperature preference. Emphasis here is on preference. While chefs may recommend a certain temperature, your palate may prefer something completely different.
–Extra Rare/Blue: this is the least cooked temperature option, and some restaurants will avoid serving this rare. The meat will be extremely red and feel very soft to the touch. It may not be very warm, as the internal temperature will range from around 80-100 degrees F.
–Rare: this temperature is slightly warmer, with an internal temperature of around 115-125 degrees F (this may vary, so ask the waitstaff how their kitchen generally compares). The center of the cut will be very red in color, and the edges will generally be light pinkish.
–Medium Rare: with an internal temperature ranging from 130-135 degrees F, ordering your steak this temperature will generally present a very pinkish/red center. There may be slight browning around the edges of the steak, and it will be noticeably warmer.
–Medium: will range from about 135-140 degrees F. A medium steak generally has some pink in the middle, but shows even more browning to the outer edges and is firmer to the touch.
–Medium Well: now your steak will be browner in color, with slight pink in the middle. The internal temperature ranges from about 140-150 degrees F and the steak will be firm to the touch.
–Well Done: with an internal temperature 155 degrees F and above, the steak will now appear uniformly brown in color, and will exhibit clear tactile firmness.
Whether you choose a Filet Mignon or New York Strip, we look forward to preparing your steak with precision and consistency. Now you can order like a professional, and feel confident about how you want your dish to arrive. We look forward to serving your next dinner!