Part 1: Restaurants and Hotels
By: Kate Smailer
This May was our 21st trip to Anguilla! Once we found this gem of an island in 2002 we looked no further for a perfect beach destination. This trip offered new hotels and restaurants.
Manoah Hotel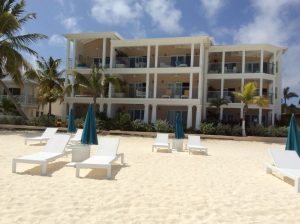 Manoah Hotel (formerly the Anguilla Ku Hotel) had its restaurant and bar open even though the main hotel will not open until November. We enjoyed two lunches here, great Mt. Gay and tonics, buckets of Coronas and the most comfortable chaise lounges and umbrellas.
Each day we set up at Jacala Beach Restaurant. Lunch there is a treat! Jacques and Alain take super care of us—they take such pride and care with everything they do. We had all our favorite foods – grilled crayfish, lobster risotto, watermelon salad, mahi mahi poached in olive oil, chilled cucumber soup with tomato sorbet, calamari risotto and tuna tartare. Jim always asks Alain to serve his snapper ceviche with coconut milk and cucumber, which he serves in a coconut shell – divine!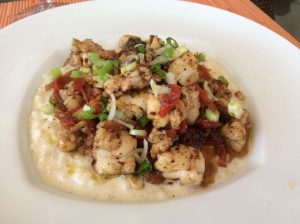 In addition to our lunches, we enjoyed one dinner at Jacala. The atmosphere at night is different – so special, very romantic.  The palm trees dance in the breeze and glow with white lights. White table cloths and candles dress the tables. Often, there is a spectacular sunset!
Hibernia Restaurant Art Gallery
We dined at Hibernia Restaurant Art Gallery two evenings. They feature open-air dining with a lovely pool and garden – we decided to give them a try and we are so glad we did! Hibernia is special and not to be missed!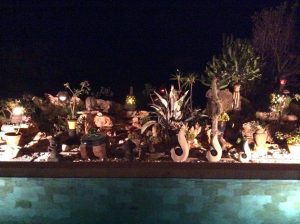 The owner Mary Pat's attention to detail is top notch (and she sets a most beautiful table), and the food that Raoul – the other owner – prepares is innovative, fresh and delicious. For appetizers we so enjoyed the smoked fish plate served with toasted homemade brown bread and a horseradish and ginger cream cheese, as well as a trio of tuna: gravlax, smoked and cured, and the sashimi plate alongside wahoo, scallop, crayfish and conch.
Entrees were also delicious. My favorite was the Crayfish sautéed out of the shell with vanilla, lemongrass and roasted onion and yam. This crayfish was so tender and incredibly sweet. Mary Pat told us that sautéing crayfish out of the shell results in a slightly different flavor and texture than the more commonly grilled crayfish. I am still dreaming of this taste!
Of course no meal at Hibernia is complete without the homemade rum raisin ice cream served with a snifter of aged rum. The dessert is served in a lovely bowl with long silver spoons to help you savor every luscious bite.
CoveCastles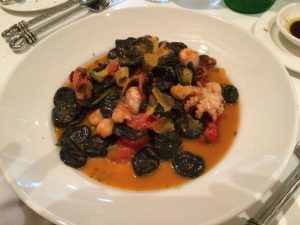 We did try one new place for a dinner after reading such stellar reviews about CoveCastles and their executive chef Marc Alvarez. The restaurant had 5 tables that night and the atmosphere had a good energy. Jim introduced himself to Marc, and he was so friendly. Marc enjoyed showing Jim his special restaurant equipment – a wood fired pizza oven and a most special wood-burning grill made by Grillworks. Marc recommended the night's special, which Jim enjoyed—grilled baby octopus served over homemade squid ink orecchiette. He started with the fried conch served with a tangy lemon aioli.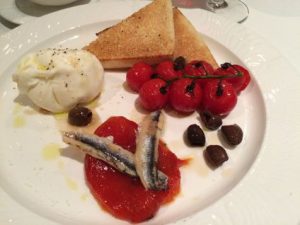 I enjoyed the grilled cherry tomato and burrata bruschetta, as well as the homemade lobster and pea ravioli.
Upon leaving, Marc came over to our table and suggested we come for lunch to try his pizza and said he would happily set us up on lounge chairs with and umbrella to enjoy the day on the beach. We did just this on our one cloudy day. Lunch was wonderful. Marc made us a great salad made with gem lettuce, avocado and tomato dressed in a vinaigrette made from olive oil and a most lovely vinegar (Vinaigre de Calamansi).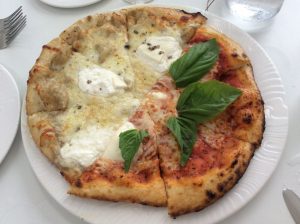 We also devoured two pizzas – a bianca and a margherita – AND a piece of the freshest snapper which he grilled on his wood fired grill. A most wonderful way to spend a cloudy day!