What sets The Cork apart from other fine dining establishments? Staff from a good old vintage.
Aging can improve the quality of wines, but not all wines have aging potential. It's actually very rare to come across a wine that matures well. So when you do come across a good old bottle, you hold onto it for a while…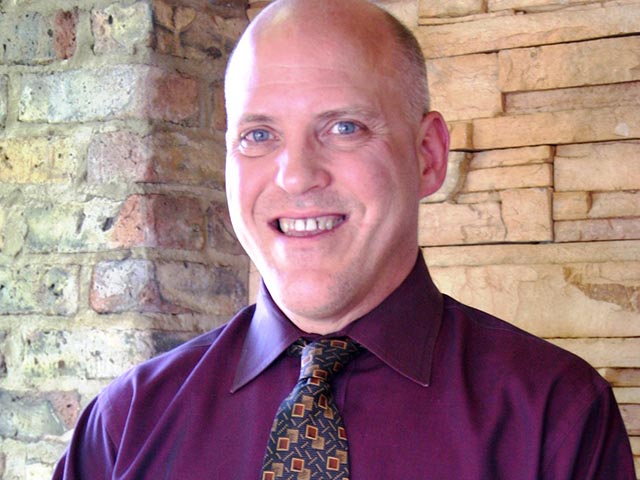 Assistant manager Sean Gonyea and staff member Bonnie are two of The Cork's finest bottles.
Sean and Bonnie have been a part of The Cork family for 20 years, delivering quality service and helping our restaurant mature into the fine dining establishment it is today. Because these two are Cork staples, we want you to know who they are, not just what they do. So allow us to introduce… Sean and Bonnie!
Q: When did you join The Cork family, and how long have you worked with the team?
SEAN: I joined the Cork on May 8, 1997 as a backwait after coming over from Old Chicago, where I was a bar manager. My brother had worked at The Cork and recommended I go in and see if they had a position. They did, and I took it. I quickly worked my way up, and after 20 years, I'm still here.
BONNIE: I've worked at The Boulder Cork for over 20 years. It's been so long that I'm not quite sure of the exact dates, but I believe it was March of 1997.
Q: What do you most enjoy about working at The Cork?
SEAN: I have always loved the camaraderie and closeness of the staff here. While working towards a unified goal we've always been encouraged to be our own personality and take our own approach to achieving that common goal.
BONNIE: The Boulder Cork is a unique restaurant. I've worked in a lot of restaurants, from corporate to family-owned. What sets it apart from the rest is the team: Alan the owner, Donna the general manager and Jim, the head chef. They have truly made the staff and customers a family. I look forward to coming into work everyday to spend time with my family.
Q: Do you have a personal life "mantra" or motto?
SEAN: I don't really have a life mantra but I try to live each day as it comes, respect all creatures, face life's challenges instead of running from them and not hold grudges. We all have our differences and those can be just as bonding as our similarities.
BONNIE: Be kind to everyone, because each of us have a different struggle.
Q: If you had one final meal at The Cork, it would most likely be…
SEAN: Tough call. It would likely be the Baked Stuffed Shrimp appetizer, with a Boulder Cork Salad. I'm a huge fan of the scallops, especially wrapped in prosciutto, so that would probably be my entrée.
BONNIE: I rarely do a full course meal, but if it was my last meal then I'd have to have all of my favorites. Appetizer: almond-crusted brie. Salad: Boulder Cork Salad. Entrée: New York Strip with a side of peppercorn sauce and smoked mashed potatoes. Dessert: vanilla crème brûlée.
Q: Outside of work, you're likely to find me…
SEAN: On the trails with my dog, Rollie, putzing about the house or enjoying the many fine restaurants in Boulder with my friends. My casual time also includes watching football, baseball and hockey.
BONNIE: Crafting, designing, shooting video, and taking lots of pictures.
Q: Something that guests would be surprised to know about me:
SEAN: My friend Jeff and I were pioneers of a sort in the fantasy sports world. We created a web site called Fantasy Sports Realm that was the first site to offer extensive projections in football, baseball, hockey and basketball. We had a run of 11 years before folding up in 2012. It's now just a hobby rather than a business.
BONNIE: I have my own Etsy store where I design, print and sell calendar stickers to help keep your calendar creative while planning your day-to-day life.
Bonnie and Sean — cheers to 20 years! With your help, we have no doubt that The Cork will continue to mature like fine wine.