Part 2: Cooking at home
By: Kate Smailer
Every May since 2004 we stay at Fletch's Cove Villa in Little Harbour. This one bedroom, 3 bathroom oceanfront villa with spectacular views, pool and gardens is a special property! The housekeeper, Cecile is the sweetest lady and she takes special care of us. We feel like family!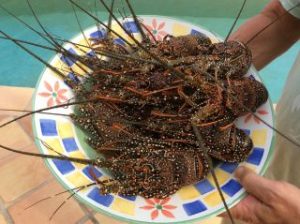 Jim loves to cook in several nights depending on food availability. This May was awesome! We procured lots of fresh produce and plenty of seafood – lobsters, crayfish and queen snappers!
A most favorite meal of the trip was Jim's special spiny lobster salad, featuring simply-grilled fresh lobster with lemon juice, olive oil, basil, salt and pepper. It is a recipe he got from Ezio, a dear Italian chef friend from the Cafe Santa Fe in Todos Santos – such a simple recipe and such terrific flavor! I so love spiny lobster as it's much sweeter than Maine cold water lobster.
Rainbow Farms is always a treat. Noel and Duke actually recognized us on the road and yelled hello! I know they meet a lot of people and we were touched they remembered us and made a point to greet. Rainbow had lots of tomatoes this year, great wild arugula and basil.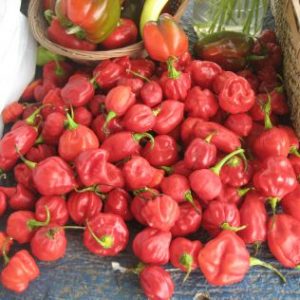 We ventured to the East End to find the new Sensational Flavours Market. What a nice size farm they have. When we visited, they were in between planting but we still managed to get a favorite item – seasoning peppers! These bright red peppers have the perfume of a habanero but not the heat! Jim lightly dresses them with sherry wine vinegar, olive oil, salt and pepper and grills them on the barbecue – oh so good!