August is an exciting month in Colorado, with an imminent football season, and students coming back into town. But most importantly, August is a great food month.
As always, you can find the best, freshest, locally grown fruits and veggies at Boulder's farmer's markets. We are passionate about producing great food, and that requires great ingredients.
Throughout this month you can find Chef Jim strolling through the market, looking for great ingredients and strengthening relationships with the local farmers who produce the food you love. What will he be looking for in August? Here are just a few of the foods that are in season this month:
Arugula: It's a fact: we love arugula, and for good reason. Healthy and tasty, arugula is the main component of our Boulder Cork salad, a longstanding family favorite!
Summer squash: Of course, fresh squash are absolutely indispensable as a side dish for an entrée. August is a fantastic time for lovers of squash, especially if you're a fan of delectable squash blossoms.
Herbs: The right seasoning can absolutely make a dish, and fresh herbs make all the difference. August sees fresh basil, cilantro, rosemary, thyme and dill, among many other popular herbs.
Peppers: Peppers are finally ripening, which is great news for those of you that like your food with a subtle kick. And you know what this means for some of our Southwest-inspired dishes!
Tomatoes: It's here: tomato season. If you're a fan of caprese, this is the right time of year for you. Chef Jim creates a wonderful (and beautiful) caprese with lovely heirloom tomatoes from area farms, complete with fresh garden basil and the best mozzarella. Yum!
Sweet corn: If you like sweet corn (and we know you do), August heralds one of our favorite times of the growing season: that of sweet corn from Munson's Farm. Sauté it, pickle it, use it in a relish, or just roast it to discover some of the delights of summer.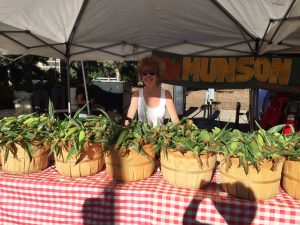 Of course, this is far from an exhaustive list. As we said, August is a great food month, which means it's a great time to visit Cork for the fresh, local food you love.