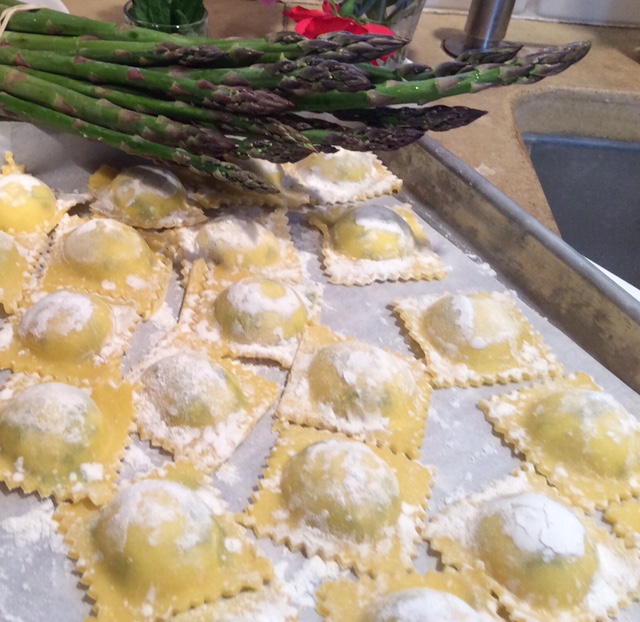 Ingredients:
1 bunch asparagus, trimmed and cut into 1/2 inch pieces
2 spring onions, coarsely chopped
1 cup ricotta
1/4 t. nutmeg
1/2 cup plus more for topping of Reggiano Parmigiano, grated
1/2 cup plus more for topping of Pecorino Toscano, grated
2 Tablespoons extra virgin olive oil
1/2 stick butter
Salt and pepper to taste
Directions:
In a large saute pan add the olive oil over medium high heat.
Add the spring onion and chopped asparagus, reserving the spear tops.
Season with salt and pepper and cook until tender, approximately 10 minutes
Set this mixture aside to cool.
In a bowl whisk together the ricotta, nutmeg and 1/2 cup of each cheese
Add the cooled asparagus mixture and gently mix.
This mixture is a wonderful spring filling for ravioli. Find your favorite fresh pasta recipe and a ravioli mold and make ravioli.
The ravioli will cook in salted gently boiling water for approximately 4 – 6 minutes depending on the thickness of the pasta. Drain the ravioli and reserve about 1/2 cup of the pasta cooking water.
While the ravioli are cooking melt the butter in a saucepan just until melted, do not brown. Add the reserved asparagus tips and cook until just tender.
Add the cooked ravioli and the 1/2 cup of reserved pasta water to the saucepan with the asparagus tips. Toss the ravioli. Place in warm bowls. Top with the reserved cheeses and few grinds of black pepper.
This recipe makes about 36 small ravioli or 24 free form ravioli.
The size will depend on size of ravioli. This recipe will serve 6 people.