Wild salmon and wild halibut have arrived for the spring and summer season. These two fish are truly an iconic American species and always popular at the Boulder Cork. The fish are sustainably harvested under strict quota systems. With good marine stewardship we should be able to enjoy these two fish for years to come. I eagerly await these two "king of fish" and will have them on the menu and as specials all season long.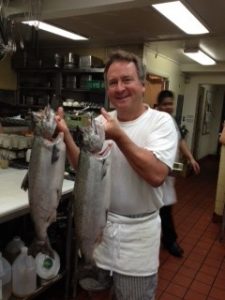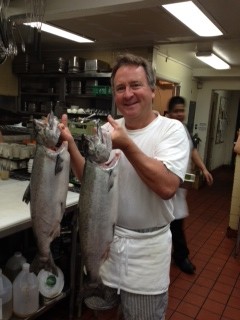 Pair either of these flavorful fishes with a Pinot Noir or Chardonnay from the Boulder Cork's award winning wine list. Pinot Noirs, which are light on tannins, go well with salmon. For baked halibut a Pinot will also work. Also, consider a Chardonnay or Pinot Gris.
I am sharing two quick and easy recipes that may be used with both fish. I recommend grilling salmon on a charcoal or gas grill. I think halibut's mild flavor is best suited for oven baking or pan sauté. Enjoy!
Parsley Vinaigrette
2 large bunches of flat leaf or curly parsley with tough stems removed
2 tsp. shallot minced
1 lemon zest and juice
2 T white wine vinegar
3/4 cup of best quality olive oil
salt and fresh ground pepper to taste
Place all ingredients in to a food processor and make a course puree. Spoon on to fish and serve.
Buttermilk and Fresh Dill Sauce

3 T buttermilk
6 T mayonnaise
2 T celery chopped fine
2 T red onion minced
2 T fresh dill chopped
2 T parsley chopped
1 tsp coarse mustard
1 tsp Dijon mustard
salt and fresh pepper
Combine above ingredients with a whisk and spoon over fish.