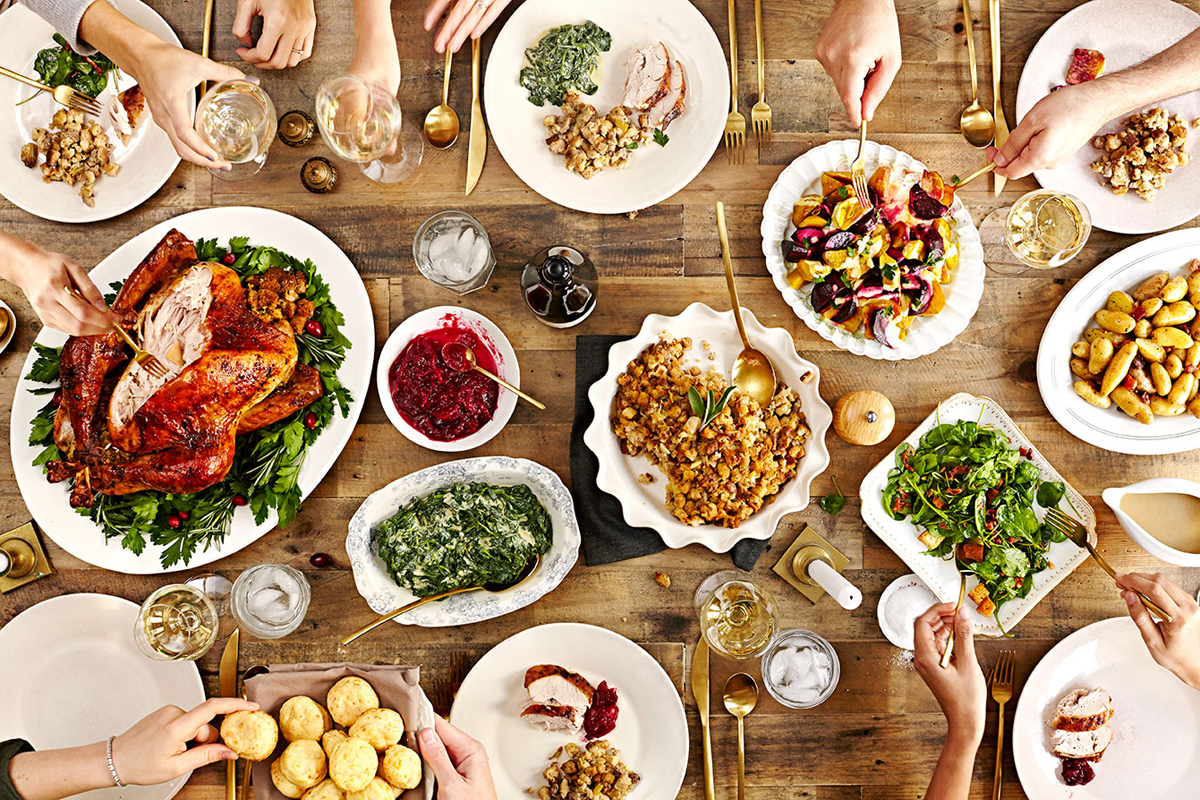 We love Thanksgiving. It's the perfect time for foodies and their families to come together, and for us to expand our pairing horizons. Whether you're watching the game with a cold brew in your hand, or you're looking for something elegant to sip alongside your feast, we've got you covered with some great pairing suggestions for all kinds of decadent dishes.
Let's talk turkey. Turkey is the name of the game when it comes to Thanksgiving—its velvety texture and mild nutty flavor serve as the backbone for the rest of the meal. Best highlighted by drinks that don't overpower the meat's subtle flavors, our three go-tos are Gamay, bourbon and American pale ale. Gamay's light-bodied earthiness and delicate floral aromas, such as Domaine de la Voûte Beaujolais out of Cote de Brouilly (available by the glass), complement the dish's unique flavors, while a medium-bodied bourbon (Spirit Hound) can add depth of flavor. One of our favorite pairings, though, is a nice crisp American pale ale. Our personal choice? Upslope Brewery's full-bodied, lightly-hopped pale ale.
Hamming it up. Baked ham is another in the classic Thanksgiving line-up, bringing a rich sweet and salty flavor profile to the table. We recommend a bolder and sweeter drink to complement this dish—something that holds up to the robustness of the meat. An off-dry Riesling with an acidic backbone, such as Dunham by Lewis Estate Vineyards, can really do the trick, allowing the sweetness in the meat to take your taste buds for a ride. We're also big fans of wheat beer—specifically our Hacker-Pschorr's Hefeweizen on tap, which delivers great fruit and citrus flavor that holds up to the sweetness of ham.
Stuffing (yourself). Stuffing is a big part of this eating holiday, and whether your favorite recipe is veggie-heavy or stuffed with sausage, the savory flavors in this bready dish call for something light. The simplicity of a crisp lager like Wibby Helles Lager out of Longmont or a light whiskey like Buffalo Trace will do the trick.
All mashed up. If turkey is the hero of the feast, mashed potatoes are its sidekick. Their mellow richness is best highlighted by the intensity of an India pale ale (Avery IPA), rich merlot (Trefethen by the glass) or medium-bodied whisky like Bulleit.
So cheesy. Macaroni and cheese has made its way into the hearts and homes of Americans everywhere. While we admit that our favorite mac is on our menu (with green chili and sharp cheddar), we feel that all mac and cheese goes perfectly with intense drinks like Phoenix Ranch Syrah a wonderful, gritty rye whiskey, such as Templeton Prohibition Rye.
Hey, pumpkin (pie). To accent the spices and sweetness of this dessert, we love the bold flavors of Stout Beers, like Sam Smith's Oatmeal Stout, and cognacs. If you're too full at the end of your meal for an imperial stout, we definitely recommend Calvados or Courvoisier VSOP as an accompaniment to this seasonal pie.
You (pe)can do it. Pecan pie's intense sweetness can sometimes overpower the toastiness of the pecans themselves. To bring out the incredible flavor, we recommend a smoked porter or an Islay scotch like Lagavulin.
Whether you're dining with us on the big day or simply planning for a homemade feast, keep these options in mind for an extra delicious Thanksgiving meal. If you'd like to join us for either a lunch or dinner, make sure to check out our menu and make your reservation sooner rather than later—seats go fast!