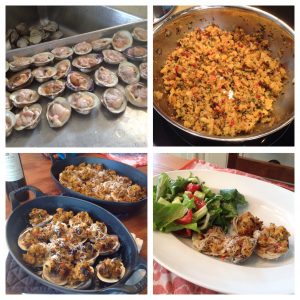 The only thing better than the clean, bright flavors of this delicious seafood starter is how easy it is to prepare. It's a great dish for the experienced seafood cook and the novice clam-shucker alike. A popular appetizer in Italy, Clams Oreganato takes its name from the addition of oregano to the light bread crumb topping. This version has a bit of a spicy kick thanks to the Fresno chile (or jalapeño), and pairs well with both sauvignon blanc and pinot noir.
Makes two-dozen clams on the half-shell.
Ingredients
2 dozen littleneck clams
2 cups fresh bread crumbs
2 T olive oil
2 cloves of garlic, minced
1/2 tsp dried hot chile, crushed
1/2 tsp dried oregano
1 T fresh chopped oregano
1 small fresh Fresno chile or jalapeño, minced
2 T fresh parsley, minced
Zest from one lemon
2T chopped roasted red pepper
1T tomato paste
1 tsp capers, rinsed and chopped
2 anchovies, minced
Directions
For the crumb topping:
Sauté garlic, crushed chile and dried oregano in the olive oil.
When garlic is just cooked add all the other ingredients and stir together.
Taste for spice. This is a spicy dish and should taste a bit hot.
For the clams:
Preheat oven to 475 degrees.
Rinse and scrub the clams with cold water.
Shuck the clams over a bowl so as to catch all the clam juice.
Release clams from bottom shell with a knife.
Discard top shell of clams to create 24 clams on the half-shell.
Place clams in a baking pan.
Pour the juice from the clams into the crumb mixture and heat slightly.
Top each clam with a heaping spoon of crumb mixture.
Bake in a very hot 475 degree oven for about 10 minutes. Serve immediately.