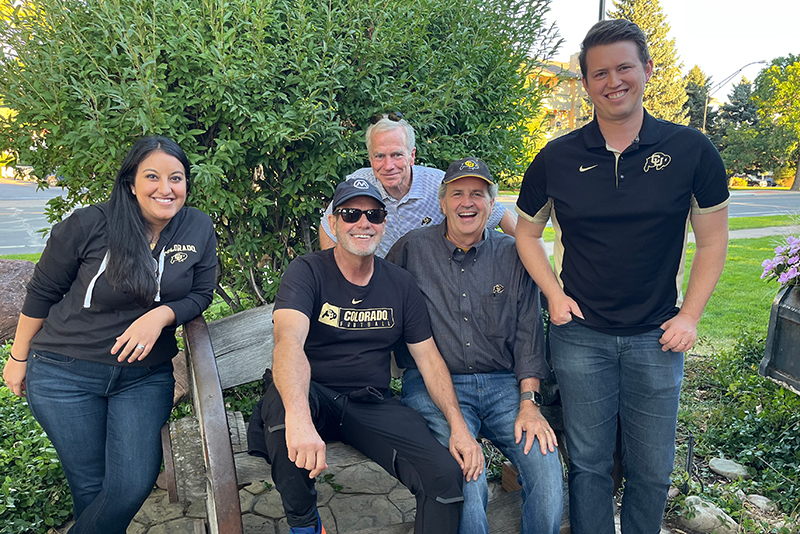 When it comes to blending history with vibrant energy, look no further than the Cork. Known for its rich heritage and culinary favorites, our restaurant has become a focal point for students, families, and fans–especially during this electrifying CU Football season.
Where Black and Gold Unite and Hearts are Captivated
Saturdays can have special meaning for Colorado residents: football. Black and gold resonate throughout Boulder and beyond. Fans, students, and families, whether winding up or down, know they'll feel the spirit of the game at the Cork.
But celebrating CU games is only a part of what makes the Cork a beloved gem of Boulder. The Cork has built a reputation for being more than just a restaurant; it's a place to celebrate life's moments; be it birthdays, holidays, or other significant milestones. The Cork offers a unique experience, whether you're in flip-flops savoring green chili cheeseburgers or dressed to the nines for a wedding celebration.
Reviving the Town's Spirit
"This year there's been a noticeable change in the town's energy," shares Caitlin Cocco, general manager at Cork. After a challenging few years, the resurgence of the Buffaloes has brought a newfound buzz." The community is rallying around the football team, finding unity through food, and savoring the thrill of game days.
The Cork has had the honor of welcoming Coach Prime multiple times already. The leader responsible for turning the Colorado Buffaloes outlook around—while attracting an uproar of national T.V. coverage, frequently orders a Prime NY-strip. "The patrons often break into applause as he walks through the aisles," shared Caitlin. "It's truly an honor and you can feel the excitement from the entire staff as he warmly greets everyone," adds Caitlin.
Something for Everyone
The football players aren't the only ones gearing up for big events this time of year. CU Parents Week, scheduled from October 12th to the 15th, offers a perfect opportunity for parents to savor delicious cuisine while visiting family. Then, the much-anticipated "First Bite" of Boulder promises to tantalize taste buds from the 20th – 29th of October. Finally, as the autumn leaves begin to fall, the Cork will also gear up for its famous Thanksgiving feast. Locals and visitors who make a reservation between 12 – 7 pm can expect a memorable holiday celebration with dishes to be extra thankful for!
Connection and Community
The Cork isn't just a restaurant; it's a symbol of connection and community. Whether you're a Buffs fan, a prime rib lover, or simply someone looking to savor the spirit of Colorado in the Fall, the Cork welcomes you with open arms and a warm, celebratory atmosphere.