Have you ever noticed that spicy foods tend to be popular among cultural groups from hot climates? From Southeast Asia, India and Africa to the Caribbean, Central America and South America, the prevalence of hot food in hot locations is well established. It may seem ironic at first, but there's actually a scientific reason for it: spicy foods cause you to sweat, which helps to lower your body temperature.
With the hot weather we've been having along the Front Range lately, this is great news for spice lovers in town. Among them is Chef Jim Smailer of the Boulder Cork, who has developed and keeps several spicy, surprisingly refreshing recipes on rotation in the summer.
One of his favorites is corn cakes with aguachile (Spanish for "chile water") and a passionfruit and mango sauce. Chef Jim loves adding fish to the meal, especially halibut or white snapper, but the cakes and sauce are also a delicious pair on their own. Check out the recipe below — if you try it, let us know how you like it, and be sure to stay cool out there.
Chef Jim's Corn Cakes
Ingredients: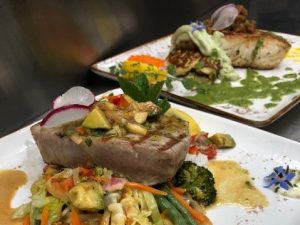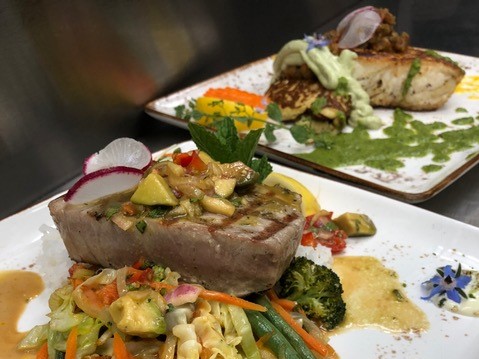 2 ears corn, kernels removed
1 egg
1 ¼ cups buttermilk
¾ cup flour
½ cup cornmeal or polenta grits (Chef Jim likes Bob's brand)
1 tbsp sugar
½ tsp baking powder
½ tsp baking soda
1 tsp salt
1 tbsp melted unsalted butter (add another 2 tbsp for sautéing)
Fresh chives or fresh jalapeño (optional)
Directions:
Purée ½ of the corn kernels in a food processor until creamy. Place the corn in a bowl.
Add the remaining corn, egg and buttermilk. Whisk until combined.
Combine dry ingredients in a bowl. Add dry ingredients to the corn mixture and combine.
Add melted butter.
Add chopped fresh chives and/or fresh jalapeño to taste (optional).
 Melt 2 tbsp of reserved butter over medium heat in a nonstick sauté pan until hot.
Cook corncake like you would a pancake.
Aguachile
Ingredients:
2 limes, juiced
1 or ½ fresh jalapeño
6 oz. seeded cucumber, chopped
1 clove garlic
½ cup cilantro
½ cup mint
½ cup of parsley
2 tbsp chives, minced
¼ cup sweet onion, chopped
1 small yellow tomato or handful of yellow cherry tomatoes, chopped
¼ cup water
¼ cup good quality olive oil
Salt and pepper to taste
Directions:
Place all ingredients except olive oil in a blender. Purée.
Add olive oil at the end while blender is still running (remove the circle in the center of the blender lid so you can easily add to the mixture)
Add salt and pepper to taste.
Passionfruit and Mango Sauce
Ingredients:
2 tbsp butter
2 tbsp olive oil
2 tbsp shallot or onion, minced
1 tbsp fresh ginger, minced
1 tsp very hot fresh red or orange chile, such as a ghost pepper, Carolina reaper or habenero, minced
1 tsp curry powder
1 tbsp honey
3 ripe mangoes
4 passionfruit, halved with flesh and seeds scooped out
3 cups fresh orange juice
Salt and pepper to taste
Directions:
Heat butter and olive oil in a sauce pan.
Add the shallot, ginger and chile. Cook on medium heat until tender.
Add curry powder, stir for another minute.
Add mango and honey, stirring for another 2 minutes.
Add orange juice and passionfruit pulp, seeds and all.
Cook this mixture, stirring occasionally until reduced by about a third.
Let mixture cool, add pinch of salt and fresh ground pepper.
Place mixture in a food processor and purée.
Press through strainer.
Served chilled or at room temperature.
Chef's Notes:
This sauce is great with fish or chicken. You can adjust the heat by adding more or less chile. I really like to use the passionfruit and mango sauce with my aguachile — green and yellow sauces really brighten a fresh summer dish like corn cakes.
Enjoy!