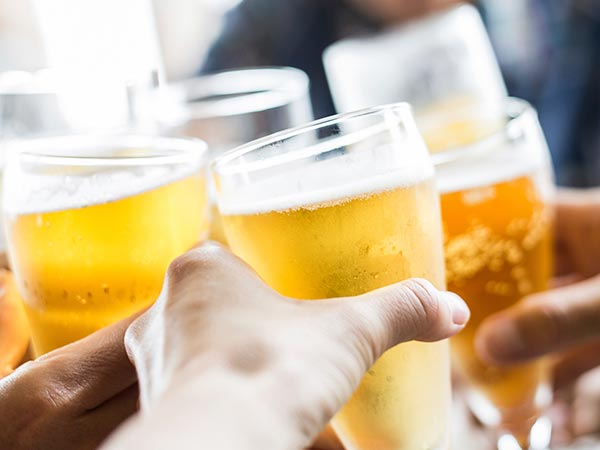 Here at the Cork, we put a lot of the emphasis on our extensive wine list, and it's hard to blame us—who wouldn't want to highlight such a unique selection? But this month, we thought we'd steal a little bit of the spotlight from the vino and shine it on another area we do well: draft beer.
The Cork always features four beers on tap. Our selection rotates, but we're currently serving Left Hand Black Jack Porter, Hacker-Pschorr Dunkle Weisse, Wibby Lightshine Helles Lager and Upslope Pale Ale.
Left Hand Black Jack Porter is a domestic described in its brewer notes as having notes of dark chocolate, espresso and herbal hops. Coming in at 6.8% ABV, Black Jack Porter took home Gold in the 2010 European Beer Star Competition and Silver in the 2014 Great American Beer Festival. It pairs excellently with rich dishes like our Pepper Steak or Green Chile While Cheddar Mac & Cheese, as well as desserts like our classic crème brûlée.
Hacker-Pschorr Dunkle Weisse ("dark wheat") is an import out of Munich, Germany. The Hacker brewery had been in business for 555 years, since 1417, when it merged with the Pschorr brewery in 1972. With notes of caramel, apricot and clove, Dunkle Weisse is well-loved for its balance of sweetness and spice, and for its smooth, velvety mouthfeel. It contains 5.3% ABV and pairs beautifully with strong cheeses like asiago and gorgonzola, so don't be afraid to try it with our delectable Happy Hour Waffle Chips!
Wibby Lightshine Helles Lager is a local favorite made just down the street in Longmont, CO. With its light, sweet finish, the Bavarian-influenced lager pairs well with pretty much anything, but we especially like it with our Drunken Fish Taquito appetizer or Dijon Chicken Sandwich. Lightshine Helles Lager weighs in with 5.5% ABV.
Last but certainly not least, we have Upslope Pale Ale, another local stunner made right here in Boulder. Upslope describes their 5.8% ABV signature beer as "clear, crisp and dry" with "a unique spicy hop bitterness" and a light-to-medium body. Try it with our burgers or one of Chef Jim's featured seafood dishes.
We're also excited to have recently installed a glycol-chilled, four-faucet Ice Cobra tower to chill and dispense our draft beers. Made in Italy, this tower is top of the line and will ensure a perfect pour and ice-cold beer every time. There couldn't be a better way to enjoy one of our drafts—come check it out!