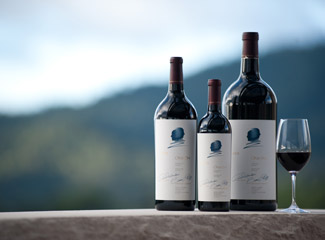 If you're a Cabernet fan who has trouble deciding between old world and new, consider Opus One, a blended Cabernet. Founded in Napa Valley in 1979, Opus One comes from the marriage of two countries, two continents, and two of the world's most famous wine families: Robert Mondavi of California and Baron Philippe de Rothschild of Mouton Rothschild, France. In the 1970s, Rothschild's involvement was big news in the wine industry and added considerable respectability to an up-and-coming Napa Valley. In 1981, a single case of Opus sold for $24,000 at auction, the highest price ever for a California wine.
Opus One began modestly on 35 acres. The vineyards have since come to span 170 acres, producing 25,000 cases annually. Opus appears to have reached an astounding level of respect in both old and new worlds: close to 50 percent of its wine is now sold overseas, with a distribution office in Bordeaux. Its popularity extends beyond even France and the United States; Japan is one of its leading importers.
To produce its world-class wine, Opus One relies on a gentle, unhurried process. It begins with harvesting the grapes, transporting them carefully in small batches before sorting them by hand. Opus also employs the use of a highly advanced optical sorter, which recognizes a grape's color, size and shape to ensure that only the most optimal grapes have been hand-selected. Opus dedicates each of its 50 elevated fermentation vats to a particular parcel of the vineyard, so the grapes grow and ferment together. The elevated vats use gravity to release the juice, after which the wine is aged in French oak barrels for a year and a half. Another year and a half of aging in the bottle finishes the wine.
Boulder Cork is pleased to offer Opus One in 2009, 2010, 2011 and 2012 vintages by the bottle as well as the 2011 vintage by the glass (a steal at $72). A winery famous for its Bordeaux-style blends (referred to as Meritage blends when from American soil), varietal percentages vary across Opus vintages to make the most of the year's grapes and their flavor profiles. The 2010 vintage, for instance, consists of Cabernet Sauvignon 84%, Cabernet Franc 5.5%, Merlot, 5.5%, Petit Verdot 4%, and Malbec 1%. Detailed information on each year's growing conditions is available on the Opus One website. It's worth noting that the 2010 vintage received especially strong critical acclaim, described, for instance, as "picture perfect" by wine critic Antonio Galloni.
In the tradition of many great Bordeaux estates, Opus One began crafting a second non-vintage wine, Overture, in 1993. Because of the highly selective Opus One blending process, some lots, despite possessing outstanding qualities, are ultimately not selected for the final Opus One. These lots are afforded more time in the barrel and subsequently blended with other lots across vintages. Overture is aged in the same French oak and consists of the same five varietals as Opus One. Boulder Cork is pleased to offer Overture as well.
If you're looking for an excellent wine this holiday season, ask us about our Opus One vintages. We love talking about wine!