Chef Jim's wife Kate test-baked four pumpkin pies for the Cork's holiday season. Try one of the recipes (especially Kate's favorite) for your Thanksgiving this year.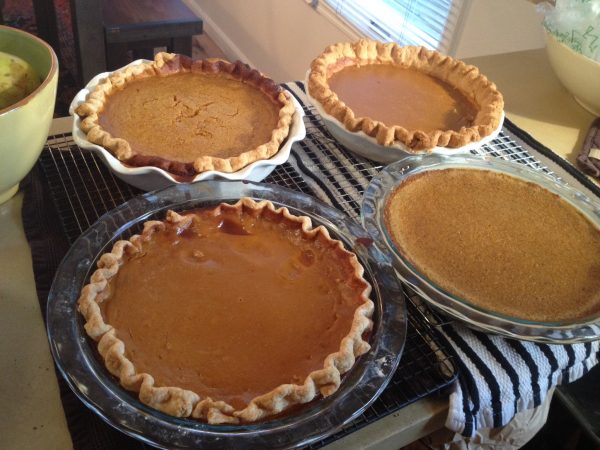 My tried-and-true holiday-time pie tradition has always been more apple than pumpkin, and I bake a much-loved apple pie for the holiday season at the restaurant. This year, however, I decided to give the fall-favorite pumpkin pie a chance. I volunteered to help bake pumpkin and pecan pies for our seasonal menu and made it my personal mission to find a pumpkin pie that everyone would crave when the air became crisp and the leaves began turning. I researched recipes and reviews online and decided to taste-test these four pies:
1.  Bobby Flay's Pumpkin Pie with Cinnamon Crunch Topping
3.  Martha Stewart's Traditional Pumpkin Pie
4.  Food Network Pumpkin Pie
"Bobby Flay's Pumpkin Pie with Cinnamon Crunch topping" won the contest. The graham cracker crust was a game-changer. The recipe also met my high standard for a filling both light and creamy, with the right amount of cinnamon, nutmeg, ginger and clove. Of course, I judged the aesthetics of each pie as well, and the extra egg yolk in Flay's batter recipe made for a filling that did not crack upon cooling. The pie is topped off with a Cinnamon Crunch, which is reminiscent of an apple crisp coating, and a sinful Bourbon and Maple Syrup-flavored whipped cream.
In the end, Flay's recipe won because it spiced up the usual, boring pumpkin pie, and it passed the ultimate test—I wanted another piece! This holiday season, I hope you will drop in to enjoy a slice of the pumpkin pie that has made me a believer.
Happy holiday season to everyone!
– Kate Smailer