Travel is always inspirational for me.  When it comes to food I pick up many new ideas for ingredients, presentations and new menu items.  Last May during our annual Anguilla vacation we ate at Jacala on Meads Bay.  Jacala is owned and run by two talented Frenchmen.  An island friend recommended we  try the grilled watermelon salad.
My wife and I both loved it and I decided I would try a version of this salad at the Cork.  I had no idea this salad would   be so well received.  We sold hundreds of these salads and everyone raved about the flavor.  Some diners were skeptical but were won over after one bite!  Now that good quality watermelon and local arugula are available I am once again offering this special salad.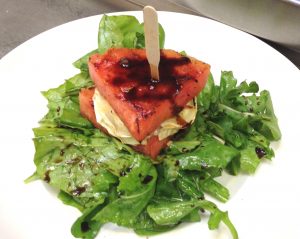 The salad is made up of fresh local organic arugula which is topped with two slices of grilled watermelon which sandwiches a nice slice of Cana de Cabra cheese.  The salad is drizzled with Andy's EVO and very good quality aged balsamic vinegar and topped with a sprinkling of fresh ground pepper and coarse salt.