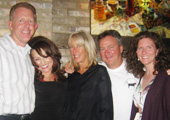 On Thursday, March 8, our head chef Jim Smailer celebrated 30 years at The Cork by hosting a dinner at The Cork to benefit the Humane Society of Boulder Valley.
Fifty-one guests enjoyed a dinner which featured sustainable and humanely raised ingredients.  The Cork raised over $5,000 for the Humane Society.   It was a fun evening filled with great food, wines, and camaraderie.
The Cork is also donating a "Dinner For Eight" package to be prepared by Chef Jim Smailer. This special dinner event will be auctioned off during the silent auction event in this year's Bark To The Future  scheduled  for April 28 at Coors Event Center.
Photo Caption:
The Humane Society Benefit Dinner, celebrating Jim Smailer's 30 year anniversary as Executive Chef the was a huge success at the Boulder Cork on March 8, 2012. With many thanks to those who attended or donated to the dinner, the sold-out event raised over $5,000 for the local Humane Society. Pictured are (l-r) Don Shires, Sabrina Shires, Kate Smailer, Jim Smailer and Lisa Pederson.