Ingredients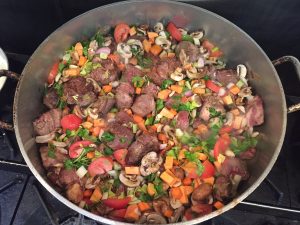 5 lbs. Triple M Bar leg or shoulder meat cut into 1 ½- to 2-inch cubes (I like a mix of the 2 cuts)
1/2 cup best quality extra virgin olive oil
1 large onion, chopped
2 carrots, chopped
2 parsnips, chopped
4 stalks celery, chopped
8 crimini mushrooms, sliced
1 bunch parsley, chopped
6 cloves garlic, chopped
2 shallots, chopped
1 oz. dried porcini (optional)
1 T. fresh thyme leaves
2 bay leaves
1 28 oz. can of Italian plum tomatoes, chopped
1 cup port wine
2 cups good quality red wine
8 cups of roasted chicken stock
Instructions
Preheat oven to 300 degrees.
Toss the lamb cubes with Wondra flour and salt and pepper.
In a large sauté pan, brown the lamb in 1/2 cup olive oil over medium high heat. Do not crowd the lamb.  You may have to cook it in batches. Get the lamb very brown on all sides.
Remove the lamb and place in a large Dutch oven or roasting pan.
In the pan the lamb was cooked in, add 1/4 cup olive oil and sauté onion, carrot, parsnip, celery, crimini mushrooms, parsley, garlic, shallots and porcini with fresh thyme and bay leaves. Cook vegetables until nicely browned.
Add the tomatoes, port, and wine and cook until some wine evaporates.
Add chicken stock and bring mixture to a simmer. Pour vegetable mixture over lamb.
Cover pan with lid or tight-fitting aluminum foil and bake in a 300 degree oven for about 3 hours. There will not be much fat, but if necessary, skim off any excess.
Serve very warm with gnocchi or mashed potatoes. Enjoy!
Serves 6. 
This recipe also appeared in the Winter Locavore column of the Boulder Daily Camera.