Jingle Bell Salsa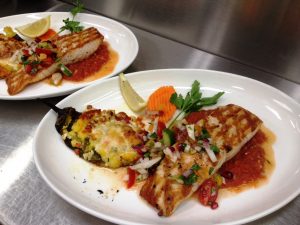 This beautiful, flavor-packed salsa adds a sprinkling of holiday colors to your dinner party. Versatile, fresh, herbaceous, fruity and zesty, jingle bell salsa works with all different kinds of meats and can stand alone with chips or strips of flatbread. The best part? You can make it year-round, even with the festive name.
Ingredients:
1T minced red onion
1/2 cup minced fresh fennel
1T minced parsley
8 cherry tomatoes red and yellow quartered
1 small cucumber finely chopped
Zest and juice from one orange and one Meyer lemon
Salt and pepper to taste
Combine ingredients
1 pomegranate
Directions:
Cut the pomegranate in half and over a bowl in the sink smack the fruit with the back of a large spoon to gather seeds. Remove pith and stir seeds into salsa right before serving. Enjoy!